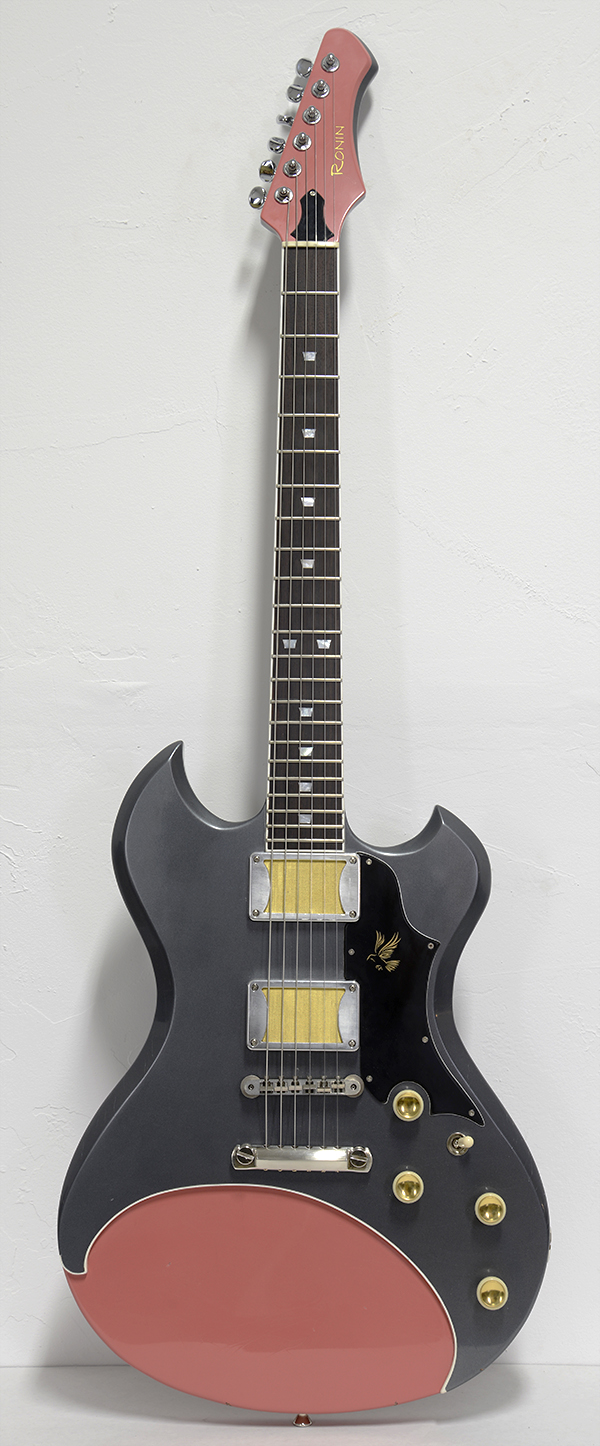 Specifications:
Body: Reclaimed Old Growth Redwood
Neck: White Limba
Fingerboard: 5A Rosewood
Binding: Celluloid Nitrate
Frets: 22 Stewmac 154
Truss Rod: Single Action
Scale Length: 24.5"
Radius: 12"
Back Contour: C Shape
Nut Width: 1" 11/16th's
Nut Material: Unbleached Bone
Inlay: Genuine MOP Mini Trapezoids
Knobs: Gold Tea Cup
Pickguard: Lacquered Bakelite w/ Gold Bird
Finish: 100% Pure Nitrocellulose Lacquer
Weight: 6.2 - 6.8 lbs
Hardware
Foilbucker SCII
Pigtail Music® Aluminum ABR + Stopbar
Hipshot® Open Gear Tuning Machines
Electronics:
Vintage NOS Oil-in-Paper Capacitor
Treble Bleed Cap + Resistor
CTS® 250k Pots
Switch Craft® Switches

 
Upgrades & Options
Limited Edition Two-Tone Colors:
Iridescent Grey/Bimini Coral
Persian Ivory/Ember Firemist
Evening Orchird/Silver
Aqua Sparkle Large Flake/Pelham Blue
Emerald Green/Pinecrest Green
Palomar Yellow/Vanguard Blue Metallic
Pickups:
2x Ronin Stormcrow Foilbucker Matched Set
Controls:
2x Vol + 2x Tone + 3 Way Switch
 
Reviews
David Hunter - Guitar & Bass Magazine UK
""These pickups yield great clarity and crispness, yet with a thickness and body that you don't usually associate with 'clear, crisp' humbuckers. That, and they deliver the elusive combination of edgy attack and toothsome compression that has won so many fans for the original 60s single-coil gold foils. Through clean settings, they deliver equally luscious jazz or country moods, both with a certain high fidelity that should not be equated with 'cold' or 'sterile'. Give them some overdrive, though – whether by cranking either of the amps or adding, for example, an Xotic BB Preamp to the chain – and they gush a raw, gnarly and utterly enjoyable voice that's beautifully at home with alt rock and grunge-blues alike. Fuzz? Oh yeah, they are utterly hairy yet never entirely out of control through a Blackout Effectors Musket in ways that few traditional pickup designs can manage – and right at home in more ambient noisescape excursions."
"